PAY WITH YOUR MOBILE DEVICE
When you open a SDFFCU checking account, be sure to ask for a SDFFCU debit card from Mastercard with no monthly usage fee. It's the easy way to access your SDFFCU checking account. The SDFFCU debit card offers you protection that you won't get if you pay with cash or write a check.
You can securely store and use your SDFFCU debit card on Apple Pay using supported devices. Then you can make easy and secure payments in stores and online at participating merchants with just the touch of your finger.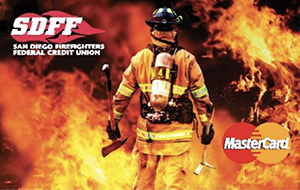 Use your card everywhere Mastercard is accepted around the world! Check your purchases online with online banking. You're always welcome to talk to a SDFFCU representative for personalized assistance—we're right here in San Diego. Because your debit card is your go-to card for making purchases, we offer instant issue for a new or replacement card.
Full control over your debit and credit card usage in a way you've never had before.

Manage how, when and where your cards are used—on your own terms.

CardNav enables you to set controls regarding the transaction types, geographic rules, and the merchant types where your card can be used.

Available on Android and iPhones.

Turn any card on, or off—in seconds.
Mastercard SecureCode is used by some vendors to add an additional layer of security to your Mastercard Debit Card. Register Here.
Nearly 30,000 Surcharge-Free ATMs - that's more than most of the biggest banks. It includes selected locations where you shop, like 7-Eleven, Circle K, Costco, Publix, Dunkin Donuts and Rite-Aid.
Over 5,600 Shared Branches - feel right at home when you visit participating credit unions in all 50 states. For easy access to your money wherever you go.